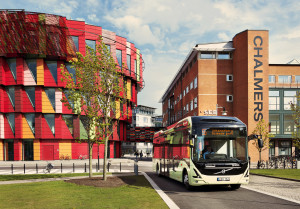 The 55 electric bus route in Göteborg (Sweden), known as ElectriCity, has been awarded the European Solar Prize 2015 for being the best example of sustainable public transport operated using renewable energy.
The European Solar Prize 2015 is awarded by the European Association for Renewable Energy, EUROSOLAR, to projects which aim, in an exemplary way, to raise public awareness about energy transition to a sustainable society
This year's prize in the Transport and Mobility category goes to ElectriCity for 'exemplary supply of public transport with renewable energy as part of a co-operation between city and science'.
'It is important for the city of Gothenburg to contribute to sustainable development and to be involved in and produce services which improve and simplify the lives of our citizens,' said Elif Koman André, sustainability manager at Göteborgs Stadshus AB.
ElectriCity is a collaboration between research, industry and society where new sustainable public transport solutions for the future are developed, demonstrated and evaluated.
Partners include Volvo Group, Göteborg Energi, Region Västra Götaland, Västtrafik, the City of Gothenburg, Chalmers University of Technology, the Swedish Energy Agency, Johanneberg Science Park, Lindholmen Science Park, Business Region Göteborg, Älvstranden Utveckling, Akademiska Hus, Chalmersfastigheter and Keolis.
Gothenburg won sustainable public transport award for 55 electric bus route. Indoor bus stop w/ coffee (Volvo image) pic.twitter.com/qsaMzlPGwj

— EVNewsReport (@evnewsreport) November 25, 2015
Outreach event on @EUSmartCities in #Gothenburg: our Director M Kopczynska joins demo of electrified bus transport pic.twitter.com/YLg21jUuym

— EU Transport (@Transport_EU) December 1, 2015