By: Ogi Redzic, Senior Vice President for Automotive, HERE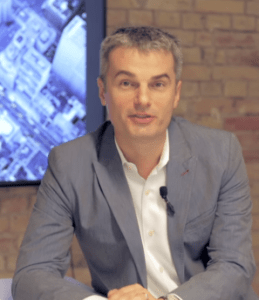 Behind every city lies a vast amount of data that will help us better understand how our cities work and ultimately how to make them safer, more sustainable and more enjoyable.
At HERE, our team of location specialists corral the data flowing from connected vehicles, devices and infrastructure, and analyze it in real-time to derive useful insights. Imagine coordinating your car with the traffic lights on the way to your destination to ensure a smooth ride to an automatically pre-booked parking spot.
That is our vision at HERE –a highly-precise, living map of our cities and road networks, with 'location' acting as the bond that unites data flowing from all these different sources. Such a map combined with our location platform can help cities, governments, automakers and other companies move towards greater automation in transportation and mobility.
With advanced analytics capabilities, our location platform can deliver real-time awareness to vehicles using the map as a foundation. This will drive dramatic, but also cost-effective improvements in discovery, routing, traffic management and accident response, given that our platform uses mature, widespread networking technologies such as LTE. For governments, cities, automakers and other ITS participants, this means more efficiency and safety, with less congestion and pollution.
We're already underway in Finland, where we have started work on a three year pilot to devise a road hazard warning system. It's the first pilot that meets the requirements of the European Intelligent Transportation Systems (ITS) directive using a LTE mobile network.
We also recently published an interface specification that defines how sensor data gathered by vehicles on the road can be sent to a cloud, an important effort to create a standard by which automakers can share data securely.
At the ITS World Congress in Bordeaux, we'll demonstrate how our products are key to smart cities, transportation and mobility. We'll demo our high-definition map, which lets automated vehicles precisely locate themselves on the road. Our real-time traffic service gives cities the tools to make smarter decisions. HERE Digital Transportation Infrastructure provides the interoperable analytical software that connects the road and infrastructure. Our enterprise products help companies visualize and manage their global assets.
Meanwhile, my colleagues and I will discuss opportunities surrounding vehicle to vehicle and vehicle to infrastructure communications, and lay out our roadmap for powering highly automated vehicles.
Through our work with ERTICO, industry partners and governments, we want to help tackle life's pressing mobility issues.
The key word here is "partners," because making mobility smarter for everyone is going to require all players in transportation to work together. Road operators, infrastructure, carmakers, drivers and other road users must cooperate to deliver on the promise of a more efficient, comfortable and ultimately safer journey.
For example, carmakers and cities should invest in connected, digital platforms to take advantage of data in a way that benefits everyone.
We invite interested attendees of this year's ITS World Congress to come find us at our booth #B48 to discuss ways in which HERE can help you achieve your smart mobility goals.
Have a great show!
The post Guest blog – HERE Brings Street Smarts to the ITS World Congress in Bordeaux appeared first on Bordeaux Congress .