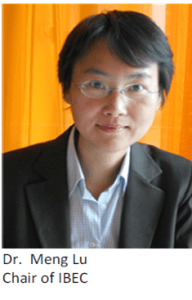 IBEC (International Benefits Evaluation Society) is a cooperative working group set up to coordinate and expand international efforts, to exchange information and techniques, and evaluate benefits and costs of Intelligent Transportation Systems (ITS).
A new start for the IBEC activities were launched at the ITS World Congress in Detroit 2014 with a new Management Committee and President (Professor Eric Sampson). ERTICO – ITS Europe was appointed as the new secretariat for IBEC.
Dr Meng Lu, Chairman of IBEC 2014/2015 highlights in the present newsletter the history of IBEC, its vision and mission, main objectives and activities.
Message from Dr Meng Lu
"I am delighted to be taking over the Chair of the International Benefit, Evaluation and Cost Working Group (IBEC) at such an exciting time.  It is a time of change – we have elected a new Management Committee, President and Vice-President; and we have a new secretariat (ERTICO).  For the benefit of new readers I'll give a little history of our organisation.
From its early days, some 25 years ago, the field of Intelligent Transport Systems (ITS) has undergone a substantial development to become a mature field embracing a wide variety of ICT-based technologies and expertise to make transport and logistics better and more sustainable.  It has been moved forward by a close cooperation of industry, governments and academia and this deployment has brought significant benefits to society as a whole.
For over 15 years IBEC has been an international forum for the evaluation of ITS; our Mission Statement is at the end of this Newsletter. Practitioners have gathered informally to address and promote the importance of the evaluation and assessment of ITS for quantifying, and thereby clearly demonstrating, the benefits that can be delivered by ITS.  The meetings have helped to identify the best solutions for deployment, and to support roll-out and wide-spread adoption.  Robust monitoring and evaluation of the impacts of ITS technology can stimulate increased integration of ITS concepts into processes of planning of and decision-making in support of deployment.  Further exploitation of the benefits of ITS will considerably increase its impact on the sustainability of the entire transport, mobility and logistics system, including economic, environmental and social dimensions, and thereby progressively contribute to economic prosperity and general welfare.
On behalf of IBEC and its Management Committee, I sincerely thank Tom Kern, the previous IBEC Chair, for his substantial contributions during the past years.  I would like to acknowledge my colleagues on the IBEC Management Committee for their kind support.  Special thanks go to Eric Sampson, Richard Harris and Patty Fusaro for their very kind help during the phase of transition to a new President and Chair.  I am looking forward to working with the Management Committee and all IBEC members to attract new members, to strengthen the position of IBEC in the area of  evaluation of ITS development and deployment, and in general to move ITS evaluation forward."
To read the entire message from the IBEC Chairman and to know more about IBEC, please download the newsletter December/January 2015 by following the link here:IBEC-newsletter2014_Dr Meng Lu