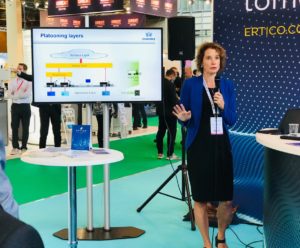 At the recent 25th ITS World Congress in Copenhagen, Dr. Marika Hoedemaeker of TNO, on behalf of the ENSEMBLE project presented the benefits of platooning and the future development of the platooning market to a packed audience at an ITS World Congress workshop 'Transforming Freight Movement through ITS', but also more intimately on the ERTICO and European Commission stands.
"ENSEMBLE is a unique project because for the first time all European truck manufacturers work together to set the standards for platooning and make multi-brand platooning a reality in Europe. Also from outside Europe there is a lot of interest in the results of this project", said Dr Hoedemaeker.
ENSEMBLE sets out to promote 'multi-brand' solutions, which will enable a single truck to form a platoon with any other truck ensuring wide usage and cost savings. Aiming for Europe-wide deployment of platooning, 'multi-brand' solutions are paramount. As shown by the attendance at the workshop in Copenhagen, there has been wide interest in truck platooning and multi-brand truck platooning. The ENSEMBLE project is strongly endorsed by the European Commission. It is hoped that the ENSEMBLE project will ensure safe platooning and facilitate impact assessments on infrastructure, safety and traffic flow, paving the way for the adoption of multi-brand truck platooning in Europe and eventually improving fuel economy, CO2 emissions, traffic safety and efficiency throughout the road freight sector.  The goal of the EU-funded ENSEMBLE initiative is that multi-brand truck platooning will soon become a reality in Europe.