After almost three years, eCharge4Drivers has achieved several important milestones to boost the rollout of charging stations in Europe and help make EV (electric vehicle) charging easier for users by focusing on their needs and expectations. The project has launched its demonstrations in Europe and has invited experts to provide input through its External Interest Group (EIG).
The uptake of electric vehicles has increased rapidly in recent years across Europe. Today, EV charging is an integral part of urban mobility but drivers of electric vehicles still encounter issues in finding convenient and easy-to-use charging options. eCharge4Drivers works to improve the EV charging experience within cities and for long trips by offering innovative and user-friendly services that increase the attractiveness of EVs.
Demonstrating innovative charging solutions in Europe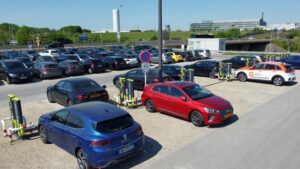 Since last year, demonstrations of the project's charging solutions and services have been ongoing in the ten demo sites in Europe. These solutions include multi-outlet charging stations, user-friendly and modular charging stations with enhanced interfaces, such as the stations tested by Nexxtlab in Luxembourg, charging location planning tools, and interoperable battery swapping stations for light EVs, like the stations developed by Swobbee in Berlin. All demonstrations have entered the verification and evaluation phase in 2023. Stay tuned to discover in more details how these user-friendly options work in practice in the coming months!
Engaging experts in the project's work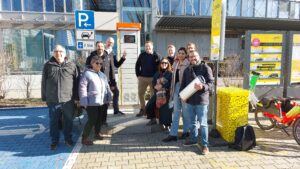 To help make these solutions a reality, eCharge4Drivers has set up an External Interest Group (EIG) comprising different stakeholders with expertise on EV charging. The EIG helps assess and validate eCharge4Drivers concepts and results by providing independent expert feedback on the replicability of the project's innovations. After an initial kick-off webinar in 2021, two successful in-person EIG workshops have been organised in Vienna in December 2022 and Berlin in February 2023. The workshops were combined with technical visits of the eCharge4Drivers demo sites and provided valuable feedback on the solutions developed there. You can learn more about the EIG and the next workshop to be held in Barcelona in June on the eCharge4Drivers website.
Curious to learn more?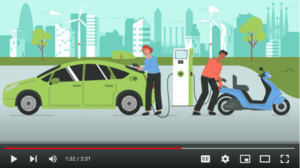 eCharge4Drivers has recently published an animated video presenting the objectives of the project and the innovative solutions that it demonstrates. Check it out here if you want to learn more about eCharge4Drivers.
Make sure to visit to eCharge4Drivers website and follow the project on Twitter and LinkedIn to stay up-to-date with the latest developments.
eCharge4Drivers has received funding from the European Union's Horizon 2020 research and innovation programme under Grant Agreement n° 875131.