eCharge4Drivers works to improve the Electric-Vehicle charging experience in urban areas and on interurban corridors, with the aim of demonstrating additional convenient charging options within cities.
On 26 May, the project shared the outcomes of the project survey 'Data Analytics on User Needs and Requirements for Charging Infrastructure' with members from External Interest Groups. This first meeting laid the basis for future research and collaboration with mobility experts to collect feedback on users' experience with Elective Vehicle (EV) charging infrastructure.
Following the project's survey launched in late 2020, project members met with vehicle manufacturers, electromobility service providers and other experts to present the survey results and benefit from their expertise, collecting valuable inputs, validating of results and listening to challenges and solutions on their electric-charging experience.
The survey was conducted in Austria, Italy, Spain, Germany, France, Luxembourg, Western Turkey and Belgium, and provided an insight into drivers' mobility habits, their experience and future buying patterns. Based on socio-demographic, vehicle use and behaviour-related questions, the results were summarised as illustrated below or at this link.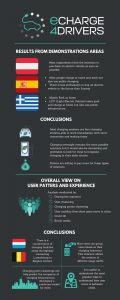 eCharge4Drivers works to foster a user-centric approach, which is why members of the selected interest group will later benefit from first-hand information of non-confidential data, an invitation to workshops organised by eCharge4Drivers' members and have the mutual opportunity to visit the demo sites of the projects. The research work will continue with a set of interviews with stakeholders that are providing and regulating charging infrastructures, to capture the main concerns of policymakers and service providers in regard to tariff structures and incentive schemes for each area. In addition, eight upcoming workshops have been scheduled to take place between the second half of 2022 and the second half of 2023, when the demo sites will be operating and ready to test, with some workshops focusing on metropolitan areas while others on nationwide pilots. Workshops will touch upon topics such as advanced charging stations and the alternative charging timeline.
The report with the detailed results from the analytics and the survey will be made publicly available very soon, so make sure to subscribe to the eCharge4Drivers newsletter and follow the project on Twitter and LinkedIn.