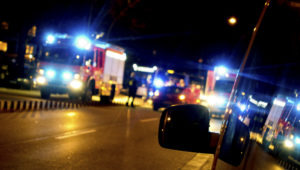 As the I_HeERO project draws to a close the technical innovations developed by the project are now being given final demonstrations. ERTICO partners have had a significant involvement in the project itself and more importantly been amongst the leaders in developing new technologies for road safety. The project being managed at a technical level by ERTICO – ITS Europe.
eCall for Commercial Vehicles
The innovation led by ERTICO Partner IRU has sought to develop eCall for commercial vehicles. This is a major advancement in road safety as for the first time the emergency service are aware of the exact location of the incident, but now also know what load the vehicle is carrying. This have been demonstrated during a European road show visiting Portugal, Italy, Greece, Slovenia and Czech Republic, where a conference was staged hosted by ERTICO partner Czech Ministry of Transport, coupled with a presentation at the "SpeedChain" event which is one of the largest freight and logistic events staged in Europe with over 600 delegates.
eCall Powered Two Wheeled Vehicles (P2W)
The adaption of eCall for P2W is a significant technical challenge. The group led by ERTICO partner BOSCH and supported by BMW, Honda and Satellite Systems Catapult, along with the majority of the worlds motorcycle manufacturers, have succeeded in developing an eCall device suitable for P2W. The is a significant technical challenge that has been overcome, and is a major step forward in road safety for one of the most vulnerable road user groups in Europe.
Data Integration
From the very outset data integration and data transfer was identified as a key advancement for the emergency services and the TPS eCall industry, to allow the electronic transfer of data no matter what protocols are used. This innovation will speed up response times for both the emergency services and TPS eCall providers. Already there has been interest from the TPS eCall industry to deploy this solution in the commercial environment
Next Generation 112 eCall
As eCall gets ready for deployment, I_HeERO as a developer of technology has not stood still. The project has developed new eCall devices that will use 4G and beyond technology. The will be showcased on 17 November in Frankfurt Germany.