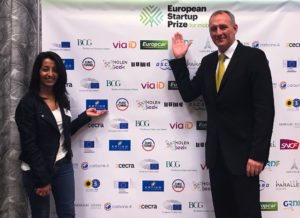 Mobility is considered a major challenge both for people and for the planet. This is why ERTICO – ITS Europe has collaborated with the President of the European Parliament's Transport Committee, Karima Delli, to promote sustainable, connected and shared mobility by bringing Europe's leading public and private players together. To implement this groundbreaking initiative, Ms Delli has established the new mobility startup accelerator in partnership with The Boston Consulting Group and VIA ID.
 "The result of this cooperation, the European Startup Prize for mobility, aims to build a prosperous and dynamic 'European valley' by responding to the challenges of accelerating European mobility startups. Our objective is to make Europe the new playground for startups, and to entrust with with responding to the two major challenges of tomorrow: the fight against climate change and the co-construction of a Europe of projects." MEP Karima Delli, said.
This first edition of the European Startup Prize for mobility was a great success, with nearly 500 startups from all over Europe responding to the call for applications. 10 of them were selected on the basis of criteria such as their ecological and social impact, the degree of innovation of their product or service, or their traction, i.e. their ability to attract investors and customers.
These 10 startups will all participate in the coming months in a tour of the biggest European tech events during which they will meet investors, partners and potential future clients. Four of them will receive awards during a pitch session open to the press on Thursday, on 22 February in Brussels in front of a jury of mobility experts, including Frédéric Mazzella, CEO and founder of BlaBlaCar; Gilles Babinet, Digital Champion at the European Commission and Tanja Kufner, Director of Germany's largest startup accelerator. The event will be marked by European innovation with two guest speakers Violeta Bulc, European Commissioner for Transport, and Bertrand Piccard, President of Solar Impulse and will also be an opportunity to exchange views with Elisabeth Borne the French Minister of Transport and Jean Todt, President of the FIA.
The winners will showcase also at the ITS World Congress in Copenhagen on 17 to 21 September 2018.
AddSeat – Sweden – An innovative electric vehicle to facilitate short journeys for people with reduced mobility.
AppyParking – UK – Informs users in real time about the state of parking on streets.
ATSUKE – France – Offers mobile service solutions to enable omni-channel commerce and customer relations.
Cargonexx – Germany – Platform for connecting utility vehicle owners with professionals with freight needs.
COCOLIS – France – Collaborative platform dedicated to the transport of parcels by private individuals.
Klaxit – France – Carpooling offer for all transport pass holders in Paris, Lyon, Toulouse, Bordeaux, Lille, Nantes, Rennes, Grenoble and Orléans.
MaaS Global – Finland – Offers the purchase of public transport tickets via an application.
NRGkick – Austria – Revolutionises the charging of electric cars with new technology.
Tracefy Smart Mobility solutions – Netherlands – Provides a real-time internet connection with any e-bike to connect it to a GPS, platform, (personalised) application, or to exchange data.
Voltia e-mobility – Slovakia – Offers fleets of electric utility vehicles with zero CO2 emissions.
Due to the high quality of some projects outside the European Union, the selection committee decided to create a special prize. A Swiss startup was selected, BestMile, an autonomous vehicle fleet management platform.
3 startups will also be highlighted for the quality of their European development, the French Drivy and Stuart and the Estonian Txfy.
For more information, visit the European Startup Prize's website.
See you on 22 February in Brussels! Click here for the Award Ceremony Program.