Every year, ERTICO organises its annual Think Tank event, which challenges and debates the most recent innovations in the mobility sector. This year's Think Tank, held in Brussels on 20- 21 June, brought together high-level experts, policy makers and innovators to discuss the value of access to data in the quest for multi-modality.
Henrik Hololei, Director General for Mobility and Transport, opening the event, stressed the importance of ERTICO's role and the digitalisation for the future of transport. Thought provoking panel discussions followed, the first revolving around the reinvention of mobility and the necessity to change industry with a panel composed of innovative start-ups.
And indeed, reinvention of mobility was the main focus on the panel discussion with startups. ERTICO has already started a collaboration with these market newcomers by supporting the European Startup Prize for Mobility and by offering a special zone for startups at the ITS World Congress this September in Copenhagen to pitch their services and products. Startups have been gaining increased public interest over the years as a significant source of employment and as an important driving force for the economy at all levels.
Rapid and fundamental changes in the mobility sector, as for example the increase of automation, connectivity, electrification and new technologies applied to transport, will bring a massive transformation in the way mobility is used, facilitating the rise of new business models and therefore paving the way to new players. In addition, the sharing economy is supporting new start-ups. Good ideas and commitment to innovation need a society open to change and an in initial support at economic and policy level, all aspects which have been debated during the Think Tank.
According to Jacob Bangsgaard, ERTICO's Chief Executive Officer "Start-ups are the new frontier of the industry. With their innovations and new business models, they provide a great contribution to the mobility of the future, seeking ground-breaking solutions in an established market. ERTICO acknowledges their tremendous contribution in making mobility smarter, greener and safer and is engaging with them to make sure they become an integrated part of our discussion."
ERTICO was once again seen as important support to new mobility businesses; startups renewed their desire to develop a collaboration with ERTICO and the European Commission's DG Mobility and Transport congratulated ERTICO for its support to these new businesses, thanks to which we can think out of the box and be thought leaders in mobility.
The second panel "Prosumers: co-creators in Multimodality" was composed of respectable names in industry who debated the evolution of shared mobility.
"Prosumer (provider + consumer) is a new word, which is related to a new economy we are experiencing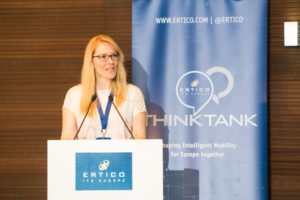 . Today we have peer to peer services and users have become co-creators of mobility services", said Johanna Tzanidaki, ERTICO's Innovation and Deployment Director. "It is important to look at to the consumer's point of view to be innovative. We need the input from users to develop better mobility solutions". Indeed, today we already experience innovative mobility services that rely on the sharing economy model: from renting your parking space, to renting your truck and facilitating sharing of services in transport with the use of apps and technology, modern society is witnessing the shift from ownership to a sharing system. Multimodality and prosumerism are an answer to citizens' needs to have more flexible,  faster, cheaper and safer transport modes.
The second day of this well attended event focused on access to data for better mobility with representatives from European Commission's DG Justice and DG Mobility and Transport, as well as presenting ERTICO's full range of Innovation Platforms and how they manage data flow. Many ERTICO Partners and new comers, as well as the Brussels transport stakeholders, joined for this important milestone in the work year.
The debate on data sharing was lively and raised many important challenges to overcome in the years to come. Soon there will be more than 200 million connected devices and vehicles, all producing data, gaining increasing importance in the market and playing a key role in the transport of the future. This will raise the issue of the kind of data that will be shared, how it will be shared and how it will be accessed.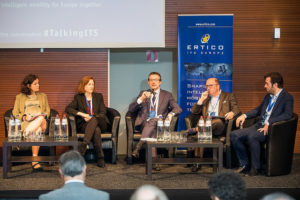 All Partners and stakeholders present at the event agreed on the need to have good policy rules to encourage the access to data and the way it is shared, as well as the need to set the basis for the public acceptance of new transport modes that may rely on data sharing. The recent European General Data Protection Regulation (GDPR) was of course debated, stressing the fact that users must be able to protect and be in control of what happens to their data, what kind of data should be available for public use and for which use cases. New transport modes, businesses, service providers, the logistics sector and many user services, like MaaS, will heavily rely on data sharing to thrive, therefore, regulating data sharing is a necessary joint effort in order to come up with an efficient regulation.
The need to insist on collaboration among stakeholders and Partners appears to be essential to come up with solutions to answer these questions. Of course, access to data is a brain-teaser for many, included ERTICO's Platforms.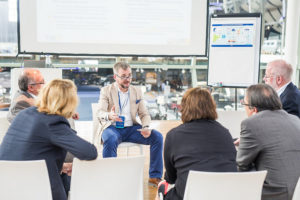 The panel discussion "Access to data for better mobility" was an important arena to discuss these issues and exchange ideas, especially since many  ERTICO Platforms, such as TM2.0, MaaS Alliance, TISA, SENSORIS and TN-ITS heavily rely of data exchange to provide mobility services. Although access to data is still being debated, solutions are starting to arise. The announcement of the data exchange platform LogistiX hub is one of ERTICO's responses to the need expressed by several Partners for the creation of a hub for innovation, deployment and business development for secure and reliable data exchange in logistics.
ERTICO will continue to be the point of reference for the public and private sector to develop new solutions that will put the user at the centre and provide better, more efficient and safer transport modes and business opportunities for all stakeholders.