Last year, a new chapter at ERTICO began: the Cultural Transformational Journey, internally known as 'INSPIRE'. ERTICO CFO Didier Gorteman, now also the new HR Director, shares his thoughts about this journey and the HR Strategic Plan. Introduced last June by Joost Vantomme, CEO at ERTICO, the project aimed to place HR management more centrally in the organisation. As the new HR Director, Didier led the development and implementation of this project to create a new strategic axis of development and growth for ERTICO and the team. We meet to hear more about how he has taken on this new role, the progress and evolution of the HR Strategic Plan and the great achievement of winning the 2023 HR Excellence Award for the Best Workplace Redesign.
With over 25 years of experience in Executive Management in international organisations in the Intelligent Transport Sector, Didier oversees finance and administration as well as corporate affairs. He also led the ERTICO ITS Congress team for over a decade, delivering over 10 World and European Congresses, including the first Virtual ITS Congress. His drive for positive impact and transformation, empowering team qualities and talent management while contributing to their success have been some of the most important pillars of this new project.
Tell us more about your new role and how the HR Strategic Plan came about. What has been particularly important to you?
After strategically repositioning and developing the ITS Congresses with the team, my continuous drive to support and develop their accomplishments and the success of ERTICO accelerated. When Joost presented the idea of a new HR Strategic Plan last year, my immediate thoughts went to reinforcing the team's spirit and starting this cultural transformation journey. We have a talented and highly skilled team, and empowering individual developments to help them grow is key to making a positive impact, a passion for which I value everyone's unique contribution as fundamental. Creating a stronger culture and more enriching employer identity has also been the central goal of this new project. This is why we formed a separate track with the team to define our new values. The original values focused on behavioural and generic set of guiding principles (Team oriented / Respectful / Solution oriented / Professional), while our values today are much more motivating and differentiating: Cooperative, Impactful, Open, Passionate and Visionary.
Taking a step back, Joost presented this new project when he first arrived as the new CEO beginning of 2022. We invited Laurent Lejeune, HR consultant from Transearch, to help outline the future plan. As a first starting point, we held a kick-off team event to introduce and raise awareness about the Cultural Journey. We created a lot of excitement and enthusiasm within the team. The next step involved an online survey, complemented by a series of qualitative interviews, and to me, this laid the foundation for a more profound understanding of ERTICO and the potential of establishing a more coherent culture. It has also been important for me to strengthen team satisfaction and engagement beyond the mission of this project to maximise talent retention and create a stronger employer identity.
Can you mention some specific initiatives developed and implemented as part of the HR Strategic Plan?
In the second phase, we organised a two-day Cultural Workup to identify where ERTICO stands and explore potential areas of improvement and expectations. More than 60% of the colleagues volunteered to take part in five key projects defined, with over 36 initiatives translated into concrete action plans. To name a few, we introduced an intranet to centralise internal news and HR-related information. We also launched a proper onboarding process and an internal newsletter to present cross-department updates related to this initiative. This correlates to other initiatives, such as starting to build a comprehensive knowledge base and integrating our four departments. We reviewed our performance management process, including coaching and career development plans to enrich and support our colleagues' satisfaction and performance. With the team, these are some of the key initiatives that I will continue to drive to empower our colleagues' unique expertise and skills and to ensure that we grow together as a team.
Reflecting on the dedicated work of this project for the past months, what are some of the main achievements for you?
Innovation is at the heart of ERTICO, and this has been reflected throughout the dedicated work of all team members across the different initiatives. None of these achievements could come alive without the team. When first presented to the team, I saw how it immediately captured their attention. The way they took on this journey, showing genuine interest in finding new solutions and growing together as a team, has been one of their greatest achievements. This also reaffirms our values: cooperative, passionate, open, impactful and visionary.
Another example reflects the appreciation, feedback and testimonials of two newcomers who joined us recently:
"Dear Joost, Thank you very much for your welcome email. As I already said in person to Didier, this is probably the best onboarding I ever had in my career! I had an eventful and interesting first day and I look forward to meeting you in person," – December 2022.
"It was great to participate in the HR journey and contribute to various project topics. Indeed, I understand that it's one of the important initiatives launched under your leadership, and I'm grateful to be given a chance to provide my knowledge and experience. I am also lucky to be involved in project activities where I can bring complementary expertise and skills, and share views with senior colleagues, no doubt such collaboration and synergies enhance our achievements and produce expected positive results and values. As a newcomer, it's great to see my efforts recognised in the short run and inspire me to work even harder in the mid and long term to reach company goals,"- January 2023.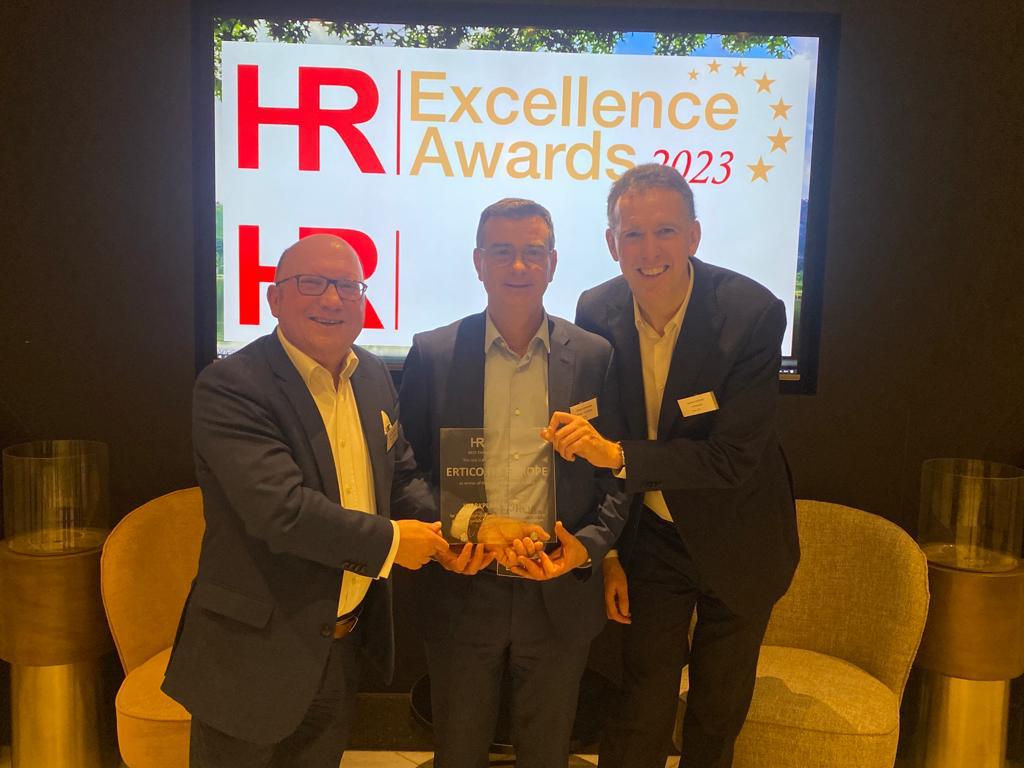 Finally, winning the 2023 HR Excellence Award for the Best Workplace Redesign has been a collective achievement that everyone should be proud of, and it has brought many positive changes to our company. Echoing what Joost recently said to the team, "this collective achievement could not have been accomplished without everyone's passionate dedication and inspiration for positive change". Beyond the momentum it has created within the team, I am particularly grateful to see how we achieved very strong results within 6-months of our 31-year-old company. We embarked on this new chapter last year, but it will be a continuous journey to develop and increase our team spirit for the success of our team and ERTICO.
This has been one step in our journey, and now, halfway through, we are looking at bringing our values to life in an open and cooperative way to finalise the implementation of our 'Inspire' projects. This will reinforce our HR management and place it strategically in the centre of our organisation with passionate colleagues. It will also drive us even further to serve our Partners in a Visionary and Impactful manner. ERTICO is a great place to work to develop your skills and competence, let's continue this journey together.