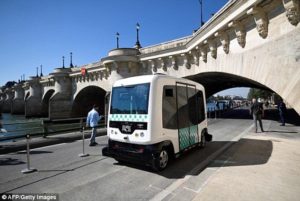 On January 23rd, Paris yesterday launched its first driverless electric shuttle bus service, aiming to curb congestion and pollution that many Parisians blame for a whole raft of health complaints.
The French capital has a serious pollution problem and numerous schemes have already been tried to cut smog levels, including shutting the Champs-Élysées thoroughfare to traffic once a month.
---
RELATED CONTENT
---
In a bid to deal with this problem, the city of Paris has launched a driverless electric shuttle bus service which authorities also hope will help ease congestion.
Sensors and cameras tell the EZ10 bus when to start and stop, how fast to go and in which direction. The 130-metre (142-yard) test route links the Gare de Lyon and Austerlitz train stations, two of the city's busiest transport hubs on either side of the river Seine. Other routes will be introduced this year, the city's authority said in a statement.
And it isn't just Paris that is getting in on the act. Lyon in central France has also been testing a driverless bus service.
Driverless cars are appearing more and more in EU policy plans, as European lawmakers advocate allocating time and money in order to prevent the United States or China getting a head start.
But the technology faces obstacles as some critics explain that EU countries won't manage to deploy driverless cars before the US because 21 out of 28 EU countries signed onto the Vienna Convention on Road Traffic, a UN treaty that requires a driver to be able to take control of a vehicle at any point. The Convention allows for testing of driverless cars, but it doesn't allow them to run on public roads without a driver in control.
Even though France is a signatory to that Convention, a precedent has already been set. In the Helsinki neighbourhood of Hernessari, one driverless bus made by French manufacturer Easymile transported commuters at a maximum speed of 40 kilometres per hour during a trial period. Finland is also a signatory to the Vienna Convention.
Eetu Pilli-Sihvola, a special adviser at the Finnish Transport Safety Agency, says that was possible because of how Finnish regulators interpret the treaty's requirement of a driver who can take control of the vehicle.
To read the full story, please click here.
Source: Euractiv