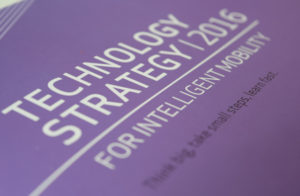 The Transport Systems Catapult (TSC) has highlighted the need for a shared vision across the UK transport sector in a new Technology Strategy for Intelligent Mobility. The TSC is warning that the UK could fail to capture a big enough share of a potential £900bn global Intelligent Mobility market, if its response to radical developments in the transport sector is slow and uncoordinated.
According to the TSC, the shift from traditional transport models to Intelligent Mobility is being driven by the digital revolution. It is expected that market spend will move away from traditional transport to service models akin to mobile phone contracts.
In the new Technology Strategy, the TSC has suggested eight Intelligent Mobility goals which provide focal points for innovation and investment and have also identified market sectors where the UK is best able to compete globally. The TSC will also work with partners in the Intelligent Mobility community to develop a series of unique assets, collectively labelled the "IM Integrated Test Environment", which address areas where the UK needs to develop capability. The TSC is hoping that this will facilitate a more coordinated industry approach towards competing in the changing global transport industry. (see Note to Editors for further information)
Chief Executive Officer, Steve Yianni commented:
"The UK is well placed to take advantage of recent advancements in technology and service models. With a shared vision, we can positively impact the UK economy by driving transport innovation and boosting business competitiveness in this shifting transport industry landscape.  We need to embrace change, collaborate and focus our investment towards areas where the UK has the best chance of capturing a significant share of the global market. 
The Technology Strategy for Intelligent Mobility is the first step towards achieving this. We are now calling on businesses, academia and government to contribute towards developing a collaborative roadmap which can draw the industry together under a common approach." 
Chief Technical Officer, Paul Zanelli explained:
"Transport in 2030 will look very different than it does today. Intelligent Mobility represents a radical overhaul of the entire transport market, driven by technical advancements such as wireless communications, smart devices, open data, the Internet of Things and artificial intelligence.
To create a people-centred, smart, sustainable and safe travel system from these developments, the UK transport industry needs to prepare for the opportunities ahead and aspire to be at the forefront of innovation. The Technology Strategy for Intelligent Mobility will help create an environment that will make the UK a world leader in transport systems innovation." 
The TSC has created an online repository of data, information and research to support the Technology Strategy for Intelligent Mobility (TSCtechstrategy.co.uk) and is inviting industry, academia and government to collaborate on its development.
Original Source: Transport Systems Catapult