On 17 September, a few hours before the official opening ceremony of the world's largest event in its sector, ERTICO and the City of Copenhagen brought together high level experts and representatives in smart mobility for a press conference. The question to the panel: 'ITS – Quality of Life: How is innovation making mobility better?
The press conference was opened by Mr. Karsten Biering Nielsen, Director of the Technical & Environmental Administration of the City of Copenhagen and the host of the 25thITS World Congress, who underlined how the city had made huge developments in smart mobility and is today the perfect example of how ITS solutions can improve the quality of life.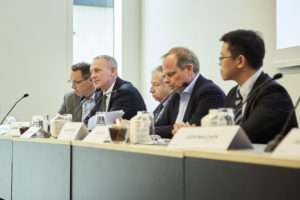 Other panellists were industry and policy representatives, who unveiled their latest technologies: Jacob Bangsgaard – CEO of ERTICO – ITS Europe, Jean Todt – President of FIA and United Nations Special Envoy for Road Safety, Ludger Fretzen – Executive Director Group Strategy New Business for Volkswagen,  Veni Shone – President of LTE Solution C-V2X&CIoT Solutions from Huawei Technologies and Vice Chairman of the China ITS Industry Alliance, Leen Balcaen – Senior Director of Cities at HERE Technologies, Germany and Freddy Sørensen – CEO of Saphe.
Despite the diverse background of the panellists, everyone agreed on one aspect: "No sector can develop smart-mobility solutions on its own," said ERTICO CEO Bangsgaard, who stressed the need of a cross-sectoral collaboration, which events such as the ITS World Congress can definitely facilitate.
Ludger Fretzen from Volkswagen shared the same view, by saying that "Mobility of the future is a joint task". He then continued "Together with cities, industrial partners, public institutions and associations, we will make the mobility of people and goods in cities even more efficient and more sustainable. He then continued "Cars are not everything", announcing that by the end of 2022, the company plans to designate 34 billion euros in projects on new mobility services, e-mobility, autonomous driving and connectivity. By 2025, Volkswagen also plans to launch new models for electric vehicles, a new ride sharing service, an on-demand, electric ride sharing service in 2019 and another micromobility solution that will ensure a silent, low-pollution transport service in cities. The German company also announced its plan to expand the charging infrastructure along European motorways by 2020.
Enhancing the quality of life also means being more connected. It is clear that many major companies are today investing in researching new solutions for connected and autonomous driving and to enhance the flow of people and goods in a cleaner, safer and more sustainable way.
"After 20 years of developing the connecting vehicle, there are currently more than 100 million vehicles connected. Currently few road facilities are connected. We want to facilitate road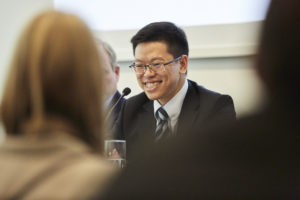 digitalization by connecting more road facilities such as traffic lights, cameras, traffic signs, making roads and vehicles more interactive. Huawei sees the need for roads to be digitalized and connected in order to interact with vehicles and produce more valuable use cases", said Veni Shone from Huawei. Autonomous driving is one of the solutions to traffic congestion that is being pushed forward by many companies. In this regard, Volkswagen announced another one of its solutions, SEDRIC (SElf-DRIving Car), AUDI AICON and the Volkswagen I.D.VIZZION.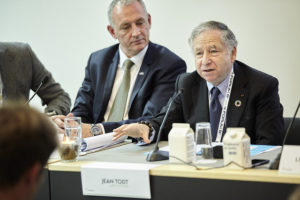 FIA President and UN special Envoy for Road Safety Jean Todt addressed the issues related to road safety parallel to the fast pace technological developments in mobility. In his view, car manufacturers need to work together to provide consistent safety standards globally, especially in developing countries, and developments in smart mobility should be translated into action across the world. Technological advancements and solutions for road safety have emerged, such as Freddy Sørensen's product Saphe, a device which alerts drivers about possible upcoming obstacles, alerts the presence of children crossings in front of schools, speed cameras and points out accidents, allowing drivers to adjust the speed or choose alternative routes.
Yet again, all panellists and experts agreed on the fact that environmental, sustainability and safety challenges cannot be overcome without collaboration among industry, public authorities and policy stakeholders.
The press conference received coverage on Danish national TV, radio and across a wide range of European, Chinese and Japanese media.