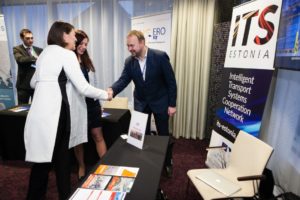 The Digital Transport Days, an initiative of the European Commission's Directorate-General for Mobility and Transport (DG MOVE) and the Estonian Presidency of the Council of the European Union, took place in Tallinn from 8 to 10 November 2017.The three-day conference gathered more than 500 public and private stakeholders from all transport areas to discuss the future of digital transport, the ways in which this can be implemented and the future challenges that this field might face.
Along with Digitalisation of transport, other topics were discussed. As expressed in the event's declaration, the transport sector must adapt to the continuous technological advancements that have a great impact on everyday life. Therefore, a multilateral participation and collaboration of all stakeholders is essential to face these changes and bring new mobility solutions that can improve the quality of life of European citizens.
In Tallinn's discussion arena, these were the main debated topics:
The digitalisation of transport to foster and achieve efficient, safe, inclusive and multimodal transport (among the various topics, also the fully self-driving mobility and automation in transport)
The importance of supporting digitalisation, thanks to which data and useful information can be exchanged in a quicker and more efficient way, reducing bureaucracy and delivering faster results
Data protection, stressing the need for multilateral collaboration and open dialogue to present solutions to cyber-attacks, which can be a threat for businesses and users.
A correct allocation of EU funds and investments is essential to deploy such initiatives, as well as good governance solutions and life-long learning programs to assure a smooth transition to the digitalised world.
The event in Tallinn indeed represented a great occasion for the private and public sector to meet and discuss new solutions.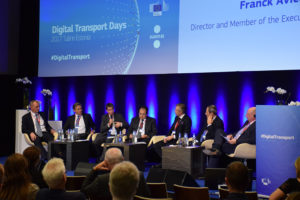 ERTICO – ITS Europe's CEO, Jacob Bangsgaard, also participated in the event, delivering speeches on "Funding and financing Transport Digitalisation", "Potential and Challenges of Digitalisation for Transport" and taking part in the roundtable discussion on "Mobility as a Service and Shared Mobility Services". With his presence, ERTICO – ITS Europe consolidates its involvement as an active party in building a solid future for Smart Mobility and Digital Transport.
Follow the conversation on Twitter:
@ERTICO
@Transport_EU
#DigitalTransport
#DigitalTransportDays