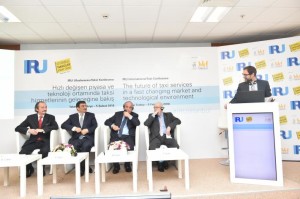 IRU organised an international taxi conference in Istanbul on 5 February 2016. It brought together over 150 stakeholders to talk about the future of taxi services within the digital revolution.
Discussions touched on the diverse opportunities, challenges, practical solutions and optimal regulations for the taxi industry in a fast changing market and technological environment. Participants included national and regional authorities, taxi app providers, regulators, industry professionals and leading taxi companies from Turkey, the Middle East, Europe and Central Asia.
The conference was organised in parallel to Taxiworld Turkey by IRU and its member, the Istanbul Taxi Tradesmen Chamber (ITEO). IRU notably hosted a cocktail and exhibition booth to showcase its fast growing global taxi network, UpTop, with over 350,000 taxis worldwide and an average 30,000 taxis added every month.
.@Sol_Met, IRU: "UpTop, the Global Taxi Network, is building a stronger & smarter #taxi for our society." @UpTopTaxi #IRUistanbul #taxiworld

— Intl'RoadTranspUnion (@the_IRU) February 5, 2016
Original source: IRU