The AEOLIX pr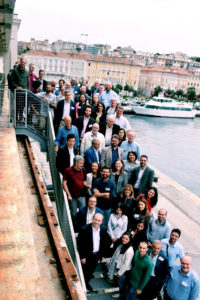 oject consortium met for a two-day TESTFEST and Consortium meeting and on 27 & 28 June in Trieste, Italy. The meeting was hosted by the University of Trieste, AEOLIX Living Lab 4 leader in the conference hall of Stazione Marittima.
On the first day of the 4th Consortium meeting, the AEOLIX technical team and Living Lab leaders met in order to consolidate the Data Model Approach used by the AEOLIX platform and discuss the status of the Living Labs.
The morning of the second day of the meeting was reserved for the Living Lab 4 TESTFEST – A Data Sharing Network for Ports – Tried and Tested.  The Living Lab 4 – Intermodal e-Customs is located in Trieste and addresses two main issues: the improvement of the customs procedures and the enhancement of the intermodal transport efficiency and quality.
The goal of the TESTFEST was to show how the platform is being used in AEOLIX Living Lab 4, located in Trieste and in particular explore how DATEX II data model is used in the framework of AEOLIX.
The TESTFEST kicked-off with a welcome speech by the President of Trieste Port Authority – Zeno d'Agostino who presented the benefits of AEOLIX for the Trieste Port.
Ivano di Santo, Port Network Authority of the Eastern Adriatic Sea, Andrea Rusich, Info-Era and Shirin Mahdavi, Fernetti Dry Port presented the Trieste Port System including an overview of the port system, PCS and multimodal logistics.
Beatrice di Pierro of Polytechnic of Bari presented the scenarios and use cases of the Trieste Living Lab while Massimiliano Nolich, University of Trieste demonstrated a live communication scenario. His colleague, Stefano Mininel, presented the Living Lab 4 data structures and use of UBL.
Rein Westra, Giventis, demonstrated how the AEOLIX Dashboard is supporting the visibility in the logistics operations in Trieste Living Lab.
Szilvi Kiss of the Association of European Vehicle Logistics was one of the two guest speakers of the TESTFEST. She discussed how waiting time and driver capacity shortage have a huge impact on the logistics industry and she mentioned how AEOLIX platform could be a part of the solution.
The second guest presentation was given by Fabrizio Paoletti of Autrostrade Tech who introduced how the DATEX II data model can be extended to the needs of logistics applications.
The afternoon of the 2nd day was reserved for AEOLIX Work Package leaders who presented and discussed the latest achievements and next steps of the project.
Lina Konstantinopoulou, coordinator proudly declared: "the AEOLIX project is establishing itself as a reference project for the exchange of logistic data in Europe. I feel honored to be part of a wonderful team, made up of consortia that work to make AEOLIX a useful tool to solve the shortcomings in the logistics sector".