The 4th International Symposium on Freeway and Tollway Operations (ISFO) took place in Vienna from 26 to 30 June focusing on the Future of Traffic Management. Organised by the Transportation Research Board (TRB) and AustriaTech with the active support of the ERTICO Innovation Platform TM 2.0, this highly anticipated event brought together close to 400 international experts from the US DoTs and European industry and public sectors to discuss and explore innovation advances in Traffic Management. TM 2.0's contribution to the discussions and knowledge exchange on more efficient and sustainable traffic management was widely acknowledged.
Focusing on four main themes – Governance and Organizational Challenges, Managing and Analyzing Operational Strategies and Performance, Next Generation Traffic Management Systems and Services, and Innovative Financing to Build and Operate Motorways – the ISFO Symposium hosted the Traffic Management communities from the US and Europe who engaged in insightful debates and exchanges exploring novel approaches and practices in traffic operations in the two continents.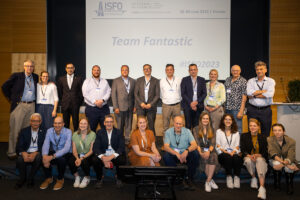 As the leading ERTICO Innovation Platform on interactive traffic management, TM 2.0 was highly involved in the organisation of the event. For almost two years, ERTICO Chief Innovation Officer and TM 2.0 co-Chair, Dr Johanna Tzanidaki, and Martin Russ, Managing Director of AustriaTech, a leading member of the TM 2.0 Platform, have been working side by side with Jon Obenberger (US Federal Highway Administration), who leads the TRB ITS Committee, and with TRB colleagues on developing the ISFO programme to ensure that the topics of the Sessions and Workshops drive forward the key issues in the sector. TM 2.0 had a very strong presence at the Symposium contributing to a great number of workshops and plenary sessions. The Platform's General Assembly was organised as a side event at the Symposium.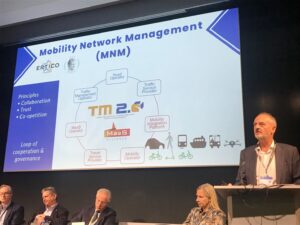 In his keynote address in Plenary Session 3, the Supervisory Board Chairman of ERTICO, Dr Angelos Amditis (ICCS), highlighted how traffic management creates impact and value through collaboration and data sharing to achieve more inclusive and sustainable mobility. He presented ERTICO's vision and innovation through the concept of TM 2.0, which is built on coopetition and trust among traffic management stakeholders.
A number of Workshops were organised, moderated and supported by TM 2.0 and ERTICO: Dr Johanna Tzanidaki organised and moderated Workshop 17 on 'Traffic Management and Climate Neutrality', and in which Dr Tamara Djukic, ERTICO Senior Manager in Innovation and Deployment, discussed climate targets integration in traffic management and current measures and solutions on the market, leading to an important exchange of best practices in Europe and the US. Dr Djukic also shared her expertise on traffic modelling and predictions during Workshop 3, which discussed the latest developments linked to the definition and evaluation of traffic management KPIs that incorporate sustainability considerations. The panel offered interesting perspectives on the need for common approaches and reliable data.
Vladimir Vorotovic, Innovation and Deployment Director at ERTICO, represented TM 2.0 and ERTICO in the panels of two different workshops, in which he shared good practices and insights from TM 2.0: in Workshop 12 the debate centered around emergency traffic management in situations inked to severe weather, natural disasters and major planned events, such as Olympic Games; in  Workshop 5 the concept of "slot management" in road and freight transport and the feasibility of technological advancements in both road infrastructures and vehicles through various use cases were analysed.
In Workshop 13 on 'Urban Vehicle Access Regulations — a Key Tool for Future Traffic Management' ERTICO Senior Manager in Innovation and Deployment Coen Bresser discussed the work of the Expert Group on Urban Mobility (EGUM) subgroup on UVAR and how ERTICO addresses this topic in its innovation work. Dr Tzanidaki and Dr Djukic also made valuable contributions to Workshops 4 on 'Integrated Mobility Management', discussing the game-changer concept of TM 2.0 and highlighting the shift from managing the volumes of the vehicles to managing the mobility of travellers and goods and how such practices necessitate a high quality of offered ITS services.
The work carried out by the TM 2.0 Platform towards advancing interactive traffic management and establishing the organisational and operational basis for the Mobility Network Management was taken as one of the points to be further explored between the US DoTs of TRB and the European Traffic community at ISFO. The final Plenary, in which Dr Johanna Tzanidaki contributed as a panellist, agreed that further cooperation between the two communities in terms of research projects and pilots under federal US and EU funding schemes but also state and national funding lines will have to support innovation that benefits all users and stakeholders from both the private and public sector.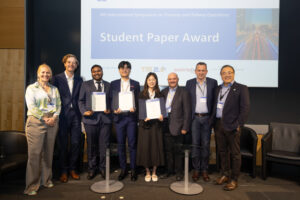 The successful Symposium on Traffic Management was concluded with the TM 2.0 sponsored Student Paper Awards which were handed out to three winners for their innovative papers in the field: Xuerun Yan (Tongji University, China), Chintaman Bari (Sardar Vallabhbhai National Institute of Technology, India), and Junlan Chen (Monash University, Australia). The 3 Students received a monetary award in addition to the coverage of their expenses to travel and attend ISFO. "It is very important for our Traffic Management communities around the globe to physically meet in order to discuss and exchange best practices on innovation and research. With these Student Paper Awards, the TM 2.0 ERTICO Innovation Platform was able to offer support and recognition to new ideas and innovation in Traffic Management coming from tomorrow's professionals based in India, Australia and China. Not all cities are the same and neither are all traffic systems, but we all have common issues to tackle and common challenges to face. The students that received the 3 ISFO awards have certainly worked on promising innovative solutions," said Dr Johanna Tzanidaki.
Copyright photos: © AustriaTech / Huger