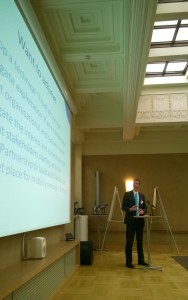 Rasmus Lindholm, ERTICO's Director of Partnership Services and Communications participated in the ITS Finland Annual Networking Event on 19 August 2015 in Helsinki.
With a presentation of Mobility as a Service (Maas) and the impact of roaming, Mr. Lindholm highlighted the signs which indicate that a mobility revolution may be just around the corner.
About
The ITS Finland Annual Networking event has been taking place on a yearly basis for a decade.
The 2015 edition included a sailing activity that gathered 60 ITS stakeholders from Finland and abroad under an inspiring, summery atmosphere.
The main focus of the event was the digitalisation of transportation and how this is paving the ground for new business models. The event started with a speech by Ari Jalonen, new chairman of Finnish Transport and Communications Committee. Philippe Crist, from the OECD's International Transport Forum highlighted how autonomous cars will totally change the way cities look.
New members of ITS Finland had the opportunity to showcase their services, i.e. an electric car rental operating in Helsinki under the name of EkoRent and PiggyBaggy, a ride-sharing service for the transport of goods.
The event concluded with presentation on GoSmart, a new market place for smart traffic services.