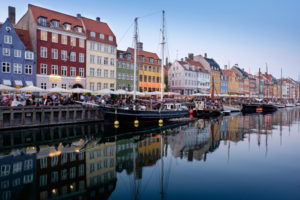 Today Copenhagen is synonym of Smart City. The Danish capital embeds the idea of efficiency, clean mobility and sustainability: interconnected transport, cycle commuting, safer streets, reduced pollution, sustainable energy and quality of life are goals that every city strived to achieve.
So, let us explore in more detail the characteristics of the 2018 host of the ITS World Congress.
Firstly, thanks to a strong political leadership and the presence of a municipal Technical and Environmental Administration, it is possible to fully apply and benefit from ITS.
Morten Kabell, mayor of Copenhagen, spoke to ITS International about how the city has achieved its enviable situation and what delegates to the 2018 World Congress will see and experience. "People will learn from Copenhagen how to use ITS. It is too easy to become fascinated about what the technology can do, so the focus will be on how that technology can be used to advance the city's aims. Technology is cool but if it doesn't help us achieve the goals of the city, then it is not really much use."
Secondly, cycling  is very popular: Copenhagen had already become the first city in the world to have a bike share system in the last century and despite the hazardous weather conditions, more than 40% of commuting journeys are undertaken by bicycle.
But how can ITS be applied to cycling?
"Cycling may not be an ITS solution but it is definitely a smart city solution – fast, efficient and takes up little space – and we use ITS to encourage bicycling with pilot projects that have shown extremely good results." Said Kabell.
The city already boasts of an efficient cycling system and is implementing ITS to enable people to cycle. Here is how the Danish capital is already applying ITS:
Installation of detectors at intersections to identify large groups of cyclists (and buses) and to prioritise them by extending the green light timing which has shortened journey times by bicycle and public transport
Use of LEDs to warn all road users to take extra care at particular points and active cycle-detection to increase the intensity of street lighting when cyclists are present at intersections
Installation of a system at five intersections which detects approaching cyclists and pedestrians and increases the illumination levels as they pass through the junction. In the future, it will be possible to individually increase the illumination levels in the event of an incident to warn other road users of the hazard and facilitate the work of the emergency services.
However, the implementation of ITS would not have been possible without significant (present and past) legislation and investments:
The city has already invested around € 30 m in converting a large proportion of the street lighting to LEDs, resulting in a reduction in energy consumption of more than 55%
Other emission-related investments include € 800 m for wind turbines that will provide much of the city's electricity needs and combined heat and power plants which have been converted from coal fired to biomass-fuelled and will shortly be certificated as running on sustainable biomass
Around € 5 bn is being invested in adding a circle line to the city's metro system which will be opened in mid-2019 and by the end of that year or early 2020, that will be extended again with a harbour line
Kabell is also working with other cities to get changes to the visibility legislation for trucks which would lead to a lowering of the cab height, specifically to improve the driver's view of cyclists
Car sharing is being heavily promoted
From 2019, all tenders for city vehicles will have to be electric or hydrogen powered. Long-lived heavy vehicles such as snow ploughs, garbage vehicles and buses may need to be retrofitted with electric motors or hydrogen fuel cells.
Copenhagen is on the right path to become a carbon neutral city by 2025 and is today an excellent example for many major cities to look up to. Its initiatives strengthen even more the important role of ITS in making our cities more sustainable and safe.
Click here to read the full article.
---
Related content: