Busworld Academy & IRU Seminars at Busworld Kortrijk 2015
October 19, 2015 @ 1:00 pm

-

October 21, 2015 @ 5:00 pm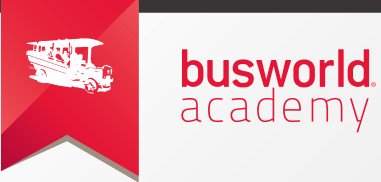 PRELIMINARY PROGRAMME
Find the more extensive preliminary programme here.
Monday 19.10.2015 – Start 13:00
Opening of the Busworld Academy by :
Mr. Ben Weyts, Flemish Minister for Mobility
Mrs. Jacqueline Galant, Belgian Minister for Mobility
Keynote Speeches by:
Mrs. Magda Kopzcynska, Head of Unit Innovative and Sustainable Mobility, DG Move, representing the European Commission.
Mr. Ananth Srinivasan, Consultant Automotive, Frost & Sullivan: Market Analysis on New Energy Vehicles
High Level Debate for Operators
Chaired by IRU
With confirmed speakers from:
• De Lijn (Flanders), Mr. Roger Kesteloot, CEO
• Global Passenger Network, Mr. Paul Cremers, Board Member
• Keolis, speaker tbc
• United Motorcoach Association, Mr. Victor S. Parra, President & CEO
• American Bus Association, Mr. Peter Pantuso, President & CEO
• PURPLE (India), Mr. Prasanna Patwardhan, Chairman & Managing Director
• Association of State Road Transport Undertakings (India), Mr. Anand Rao, Executive Director
• …
Special Interest Sessions
WINTEX, the use of smart textiles in buses & coaches.
chaired by Ghent University & Ghent University College
AUTOMATION in Passenger Transport, first results of European demonstrations.
chaired by POLIS
Tuesday 20.10.2015 – Start: 09:00
Introductions by:
Mr. Carl Decaluwé, Governor of West-Flanders
Mr. Vincent Van Quickenborne, Mayor of the city of Kortrijk
Keynote Speeches by:
Mr. Umberto Guida, Director European Projects, UITP : Presentation of the European Projects: 3iBS, ZeEUS, EBSF2
Mr. Carlo Mol, Belgian Representative in the International Energy Agency, on behalf of VITO, The Flemish Institute for Technological Research
Mr. Alex Stewart, Associate Director, Element Energy: Market analysis on new energy vehicles
Mr. Carlos Navas, Project Manager, Fuel Cells and Hydrogen Joint Undertaking : The future role for fuel cells & hydrogen in passenger transport
High Level Debate for Manufacturers
Chaired by Busworld Academy
with confirmed speakers from:
• Volvo, Mrs. Jessica Sandström, Senior Vice President City Mobility
• Solaris, Dr. Andreas Strecker, CEO
• Van Hool, Mr. Sven Somers, Manager Engineering, CAD, Homologation & Documentation Department.
• VDL, Mr. Peter Wouters, General Director
• IVECO BUS, Mr. Philippe Grand, Institutional Relations Director
• BYD, Ingbrand Ho, General Manager
• …
High Level Debate for Authorities
Chaired by POLIS
with confirmed speakers from:
• BIVV, Mrs. Karin Genoe, Managing Director
• Transport for London, Mr. Mike Weston, Director of Buses
• Metropolitan Transit System San Diego USA, Mr. Julio Ortiz, Director of Fleet and Facility Maintenance
• EMT MAdrid, Mr. Sergio Fernández Balaguer, Head of the European and Mobility Projects
• Transport for Greater Manchester, Mr. Howard Hartley, Head of Bus
• Tisseo Toulouse, speaker tbc
• BKK Budapest, speaker tbc
• Flanders Region, speaker tbc
• DG Mobility & Transport, European Commission, Mr. José Fernandez-Garcia, Policy Officer
• …
Special Interest Sessions
Intelligent Transport Systems, technology solutions for mobility challenges in our smart cities of the future.
chaired by ERTICO
Fire Safety in New Energy Vehicles.
chaired by SP Technical Research Institute of Sweden
________________________________________________
ACCOMODATION TIP:
Regarding the accommodation we have made an agreement with the Holiday Inn Express in Ghent, they have a special discounted offer for Busworld Academy Participants. Here, you can find a reservation form for the hotel. A shuttle service will bring you back and forth to the exhibition centre.
________________________________________
For more information, click here.