ERTICO presents insights on Mobility Innovation at the IRF Annual Conference 2023
November 21

-

November 22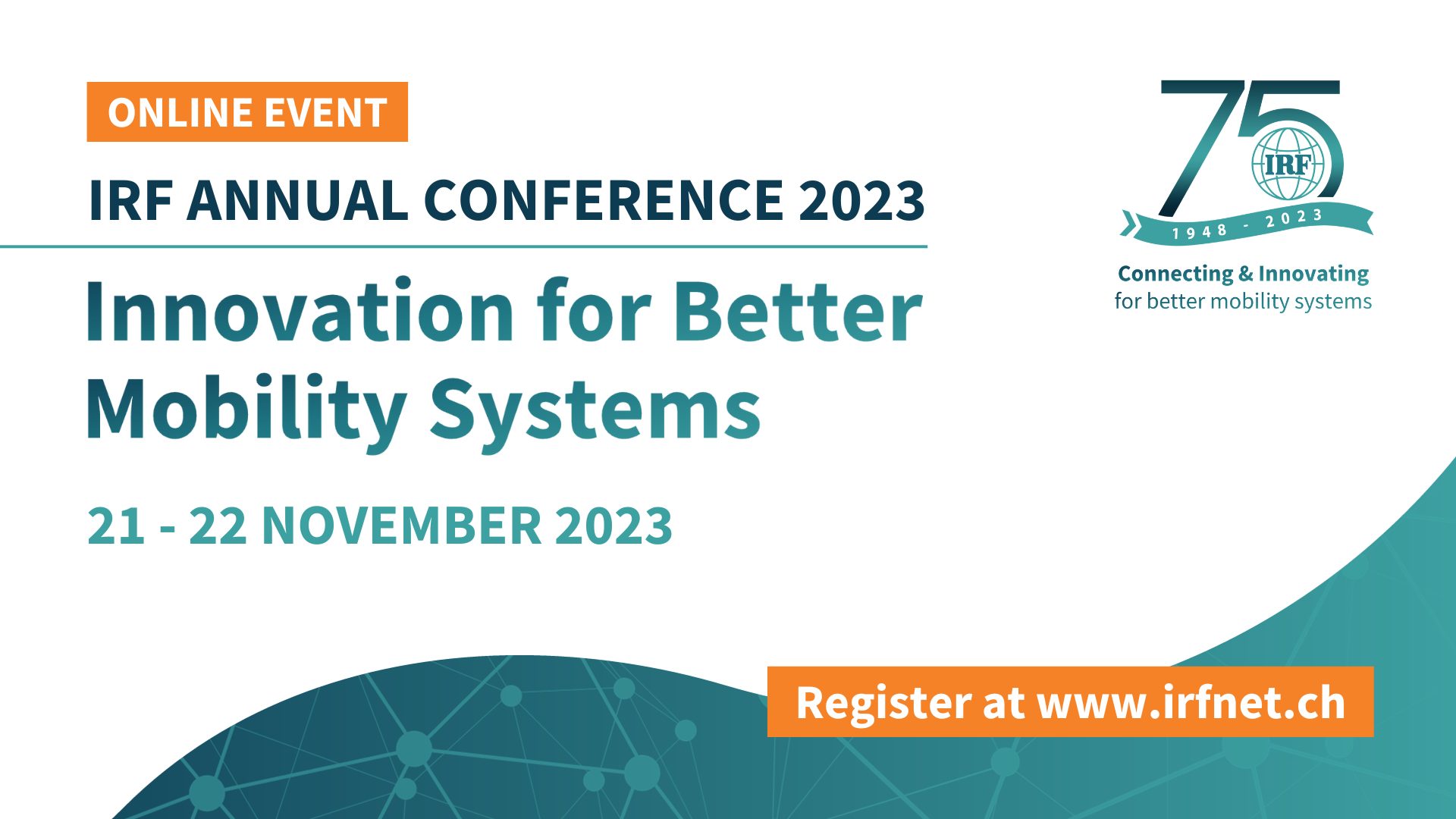 In celebration of World Sustainable Transport Day, the IRF Annual Conference 2023 will be hosted this year on 21-22 November as a 2-day digital experience, gathering experts from the sector from all over the world. On this special year, the IRF celebrates its 75th anniversary, and the Conference will dig into the theme "Innovation for Better Mobility Systems".
The Conference programme will explore groundbreaking ideas, cutting-edge technologies, and disruptive approaches that can revolutionise the broader mobility systems to make them ready for present and future challenges. It will also provide a space to exchange knowledge and connect with global leaders, industry experts, policymakers, start-ups and professionals from the road transport sector. On this occasion, ERTICO CEO, Mr Joost Vantomme, alongside global organisations such as IRF, IDB, UNECA and the World Bank, have a great pleasure and honour to present during the opening session on 21 November from 14:00 to 15:00 (CET). The opening will set the stage for further discussions and knowledge exchanges on technology-driven innovation and the future of mobility, and Mr Vantomme's address will spotlight ERTICO's key role in shaping the landscape of intelligent transportation systems (ITS) and smart mobility solutions. Drawing from ERTICO's diverse portfolio of Partnership and European co-funded projects, the presentation will present the work of ERTICO that exemplifies technologies and meeting the needs of users, including the ERTICO-led City Moonshot initiative. Mr Vantomme will also delve into some of the upcoming trends, and touch upon how technology and regulation hold a great potential to help navigate across and beyond the complex labyrinth.
ERTICO actively contributes to shaping future priorities with the European Commission, participating in initiatives such as EGUM, 2ZERO Partnership, CCAM Partnership, and DTLF. The joint commitment to testing and trialling innovative solutions through these collaborations plays an important role in setting global standards for ITS technology-driven innovation. In his opening remarks, Mr Vantomme will explain how ERTICO facilitates and promotes this mission through some of its Innovation Platforms.
On the second day, 22 November, from 10:00 to 10:50, ERTICO Senior Manager, Innovation & Deployment, Dr. Tamara Djukic, will moderate a session titled 'ITS and Big Data to Meet Transportation Challenges'.  This dialogue promises to unfold the transformative potential of ITS and Big Data, and will further aim to address the complex challenges faced by the transportation sector. Dr. Djukic will lead an engaging discussion with esteemed speakers: Ms Itir Coskun, Regional Innovation Manager at SWARCO, Mr. Thierry Castermans, Expert Engineer at AISIN Europe, and Ms. Sveta Milusheva, Senior Economist at the World Bank. Attendees can anticipate a dynamic exploration of cutting-edge technologies and their application in meeting the evolving demands of the transportation landscape, offering a unique opportunity to gain valuable insights from industry leaders.
Join ERTICO at the IRF Annual Conference for a thought-provoking and collaborative experience where innovation takes centre stage, shaping the future of transportation. Be part of the conversation, celebrate milestones, and contribute to the evolution of better mobility systems that leave no one behind.
Access the full programme and register through this link.