Webinar: ITS stories from the war in Ukraine
September 14 @ 10:00 am

-

11:30 am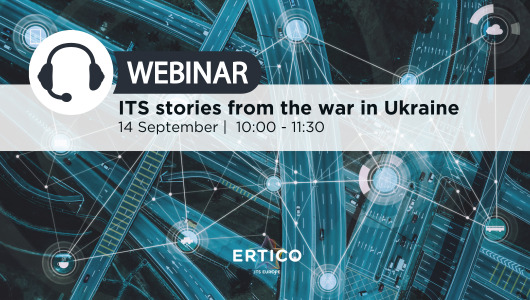 The war in Ukraine has claimed thousands of lives since the start of the aggression on 24 February 2022. The entire country is suffering heavy losses and the citizens of its capital, the city of Kyiv, have had cruise missiles flying over their heads and destroying their homes. The meaning of 'safety' in conditions of war is very different from the way we use this word in our everyday ITS discussions and activities. It is not about road accidents and speed limits.
In Kyiv, the use of ITS by the city and companies that stepped up to help, safety means survival. Guidance and routing of citizens to take shelter in safe places during missiles attacks, as well as timely evacuation and rescue of citizens in need have been supported by ITS applications that were originally created and set up aiming towards safe and efficient, as well as sustainable, transport in the city. In Kyiv ITS is used to save lives.
ERTICO -ITS Europe is pleased to invite representatives from the City of Kyiv, Stephanie Leonard from Tom Tom, ERTICO Partner and Georgi Sokolianskyi from UBER, also ERTICO Partner, as well as Pedro Barradas from ARMIS ITS and ITS Portugal, who hosted the 15th ITS European Congress in Lisbon earlier this year where the discussion first took place. Dr Johanna Tzanidaki, Chief Innovation Officer at ERTICO, and moderator of this webinar, will invite the panellists to share their experiences on how lives were and are being saved in Ukraine in a powerful discussion online.
Register here and attend the online webinar on Thursday 14 September, from 10:00 – 11:30.