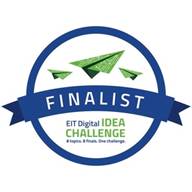 iQ Payments, a Finnish "Smart City" specialist, reaches a finalist position in the Urban Life and Mobility category in the most acknowledged European innovation contest. The annual Idea Challenge contest is organized by the European Institute of Innovation and Technology (EIT).
The EIT Digital Idea Challenge is a yearly contest to reach out, identify and support the best digital startups in Europe, that are focused on fast growth of their business in Europe and worldwide. This year there were 461 companies from 26 countries participating the contest in eight categories.
Ten start-ups from eight different countries have been shortlisted out of 102 applicants in the category Urban Life and Mobility. The finalists will pitch their ideas on Monday 23 November in London, United Kingdom, in front of a pan-European expert jury. The pitches will be embedded in a unique event that brings together European experts in the field of "Smart Cities", leading industrial players and the most promising start-ups.
"We feel proud and honored for this nomination. Being within the ten finalists is a great achievement and excellent recognition for our innovations." tells Mr. Tuomo Parjanen, the CEO of iQ Payments and continues "Our business area, Mobility as a Service (MaaS), is becoming one of the key enablers for changing the transportation paradigm in Smart Cities. As one of the first companies, we have developed a mobile payment solution designed especially for these new MaaS ecosystems.
PayiQ® MaaS Payment Solution is the first in-production solution in the world specifically designed for Mobility as a Service (MaaS) operators. Our solution provides the pay-as-you-use/go model with access to all common digital payment methods with strong fraud prevention thru validation of user and ticket. It uses geo-location services in real-time, and collects Smart Data for connected Smart City services. PayiQ allows the option for multiple travel tickets thru the whole travel chain including even access to events like theaters, exhibitions, etc.
EIT Digital is a Knowledge and Innovation Community of the European Institute of Innovation and Technology (EIT): https://www.eitdigital.eu/about-us/overview/
EIT Digitals aim is to create new mobility ecosystems which tackle rising societal challenges and promote technical efficiency. Social networking, collaborative interaction, live information sharing and crowdsourcing in the urban industry sector should encourage the bringing together of individuals into active and sharing- oriented citizens. The Action Line Urban Life and Mobility is searching for innovative ideas to create bottom up initiatives in mobility and urban services based on the collected user data to technically enhance The Smart City paradigm.
---
iQ Payments Ltd develops cloud based intelligent mobile solutions for public transport utilizing Microsoft Azure technology. Company focuses on mobile tickets, security and safety when using and validating them. iQ Payments is the leading mobile payment solutions provider in Mobility as a Service sector. Company is participating in national and international development programs like MaaS Operator (www.MaaS.fi).
Original source: iQ Payments