ITS United Kingdom has signed a Memorandum of Understanding (MoU) with the China ITS Industry Alliance agreeing to cooperate on ITS research, planning and deployment issues.
The agreement was signed by ITS (UK) International Director Richard Harris and Weiyun Jiao at the ITS World Congress in Montreal. It will allow both organisations to better understand the potential for ITS and optimise its development in their countries.
Specifically, ITS (UK) and the China ITS Industry Alliance commit to exchanging information and technical publications, facilitate private and public sector contact and visits, exchange effective management practices and discuss policy issues that are discussed at International Road Congresses and ITS World Congresses to benefit ITS professionals around the world.
The organisations will also promote each other's events.
Weiyun Jiao said, "I expect this cooperation will be highly beneficial for both organisations and may lead to more effective and better organised development and deployment of ITS in the United Kingdom and China."
ITS (UK) Secretary General Jennie Martin agreed, adding, "ITS (UK) already enjoys frequent visits from Chinese delegations wanting to know more about British ITS solutions and opportunities and this agreement will take UK-Chinese cooperation to a whole new level."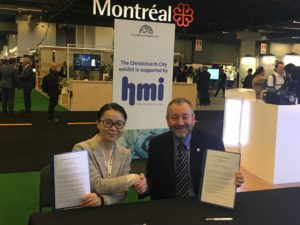 Picture shows Weiyun Jiao and Richard Harris with the signed MoU.