Are you a transport innovator? Have you done highly impactful research funded by the EU? You could be eligible for the EU Champions of Transport Research Competition.
Cutting edge transport research has profound effects on our lives and world we experience, changing the way we travel, consume and interact with one another. The EU Champions of Transport Research Competition is an excellence award for leading surface transport researchers in European projects. It helps us to show how important and impactful surface transport research is.
Transport Research Arena 2016 will be the second time that the EU Champions of Transport Research Competition has run. The competition recognises and celebrates leading researchers who are, or have recently been, contributing to surface transport EU-funded projects. Successful candidates will have to demonstrate excellence and proven impacts in their field of research.
This competition will provide a platform to further disseminate knowledge and results from research projects in Surface Transport, promoting future synergies and further development of innovative ideas, in line with the strategic objectives of the TRA stakeholders. The Champions of Research Competition will act as a showcase for the very best EU-funded research and encourage the identification of current and future leaders in the field.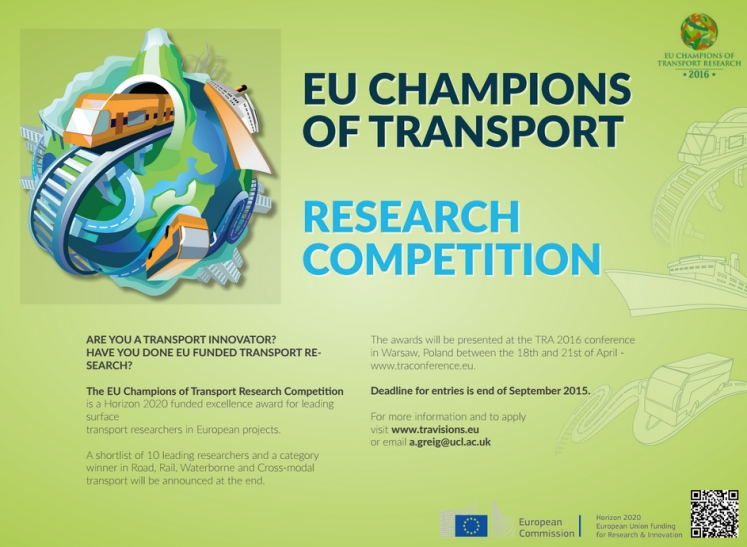 The competition will be promoted through the stakeholders in the consortium; national contact points; targeted contact co-ordinators; participants in EU-funded transport projects and the TRA conference itself.
Winners will be announced during the TRA VISIONS 2016 Conference and prizes will be presented at an award ceremony during the Conference.
Original source: TRAVisions2016