Our CEO, Jacob Bangsgaard, met with a number of high-profile Chinese companies and authorities during a week-long visit to China to foster closer relations between European and Chinese ITS actors.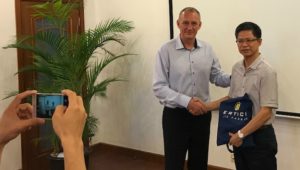 Relations with Chinese ITS stakeholders are of great importance to the ERTICO partnership, especially as Europe and China share a great deal of interest in a number of key topics such as connectivity, automation and new mobility services. In these areas in particular we believe there are many opportunities for increased cooperation and knowledge-sharing.
---
Related content
---
While in China, Mr Bangsgaard met with the Shanghai Electrical Apparatus Research Institute, Tongji University, ITS China, China ITS Industry Alliance, Shanghai International Automotive City, Ford Motor China, Shanghai Comprehensive City Transport Planning (SCCTPC), Shanghai Urban and Rural Construction and Traffic Development Academy, Winner, Shanghai SEARI Intelligent Systems, BITSHARE, Shanghai Industrial Technology Institute, among others.
An agreement was reached with the Chinese industries and authorities to enhance cooperation between ERTICO and Chinese actors, on a number of the aforementioned topics, with ERTICO agreeing to organise a series of events and delegations with key Chinese ITS stakeholders.
The first will be a delegation of ERTICO partners to visit China in March 2018, followed by a delegation of Chinese ITS stakeholders to Copenhagen in September 2018 for the ITS World Congress.