50th ATEC Congress ITS France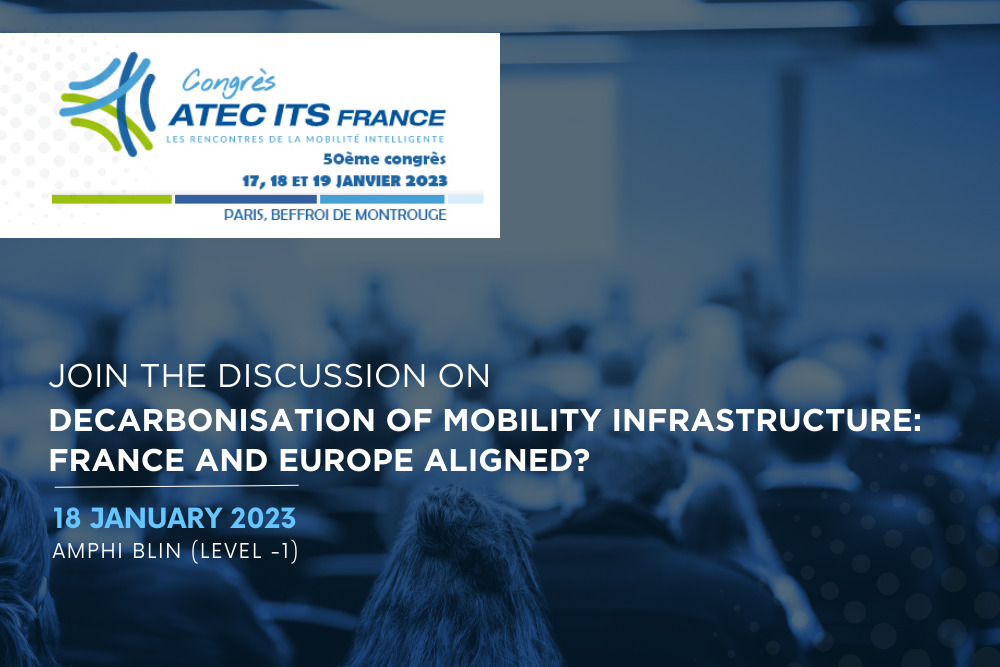 From 18 – 19 January, at the gates of Paris, the 50th ATEC ITS France Congress will bring together all the players and stakeholders to present the latest innovations, encourage meetings between clients and solution providers and the deployment of new projects. This yearly event, organised by ATEC ITS France, is dedicated to facilitating the networking of experts to share knowledge and promote the latest industry innovations in the ITS sector. On the first day, Mr Joost Vantomme, ERTICO CEO, has the pleasure of being invited as a panellist to the discussion on Decarbonisation of Mobility Infrastructure: France and Europe Aligned, taking place at 2 PM (CET).  
Last year, Mr Vantomme delivered a welcome speech and highlighted the 2022 ITS European Congress in Toulouse. This time, he will discuss the link between ITS technologies, decarbonisation and air quality, touching upon some of ERTICO's activities, such as the City Moonshot Initiative, including the latest results and the next steps. Another key message in Mr Vantomme's presentation will highlight the fact that ITS should be recognised as an enabler for decarbonisation, so the joint efforts with the ERTICO Partnership and its stakeholders are accounted for and validated as sustainable investments in the taxonomy regulatory framework. On this note, the topic of the panel discussion is also of high relevance to the 2023 ITS European Congress, hosted in Lisbon from 22 – 24 May, and in particular, the Plenary Session on Digitalisation – what can mobility users expect? which will focus on what the real benefit of data sharing is and how best to tackle the challenges, perceived or real.
"Decarbonisation is a hot topic this year to ERTICO and all stakeholders in the field but also for European cities. ATEC ITS France Congress will be a great opportunity for everyone to kick off this discussion", remarks Mr Vantomme. "We will continue to deepen this debate at the Lisbon Congress and its dedicated ITS Summit, linking the topic of decarbonisation with 'Smart Urban Mobility for Cities and Regions'.