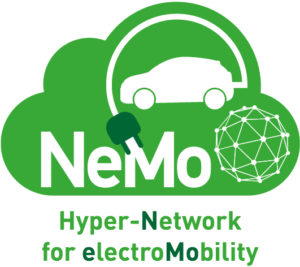 The seventh edition of the Smart City Expo World Congress took place in Barcelona on 14-16 November, under the theme 'Empower Cities, Empower People'. The event gathered more than 17.000 professional visitors and 600 exhibitors, along with high-level representatives from more than 650 cities around the world, and over 400 experts and speakers.
A presentation of the NeMo project took place on Tuesday 14th, hosted at the stand of the Barcelona City Council. Jordi Ortuño from IMI (Barcelona City Council) presented the point of view of the city about digitalization and sustainable mobility, in connection with Electric Vehicles and the NeMo project.
Stefano Persi, CEO of Mosaic Factor, then gave an overview of the NeMo vision, with a mention of the recent test drive that took two electric cars from Turin to Barcelona to evaluate the obstacles to long-distance electric travel.
He also addressed the upcoming NeMo software services, and how they can provide much-needed services such as booking charging stations in advance. This is expected to improve the user experience and make electromobility more attractive, while managing a limited resource – since a stop at an electric charging station requires more time than a stop at a conventional petrol station.
Finally, participants were invited to provide ideas for new services in the electric vehicle ecosystem.
"I have to say the SmartCityExpo is a very important event worldwide" says Stefano Persi, "but the mobility aspect of it has only been growing recently. In fact, this year there was a dedicated SmartMobility event organised by the city and embedded in the Expo."
The Smart City Congress aims to gather the most relevant experts and leaders of the world´s most innovative cities, focusing on strategies for a smarter and more sustainable urban world. An Exhibition Area allows participants showcase their latest developments, real solutions and products.
The post NeMo Network for Electro-Mobility featured at Barcelona Smart Cities Expo appeared first on NEMO.