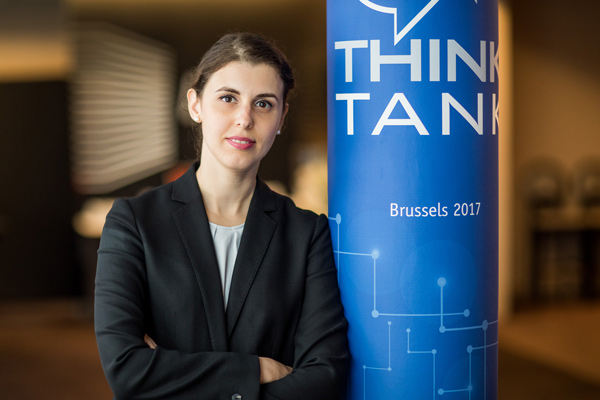 An interview with Irina Patrascu-Grant, ERTICO – ITS Europe's Communications and Partnership Development Director
Originally from Romania but truly international in her educational and professional paths, Irina played a part in the development and integration of consumer grade automobile safety systems throughout Europe. Having worked in strategic planning, new programmes and campaigns for an automotive membership organisation (FIA), she now plans to apply her experience and passion to transform ERTICO's communication and partnership development strategies to support the vision of developing, promoting and deploying intelligent transport systems to make mobility safr, more efficient and cleaner for all.
Carla Coppola, from ERTICO – ITS Europe, sat down with Irina to get a better understanding of her background and her future plans at ERTICO – ITS Europe.
Q: Can you tell us a bit about yourself?
A: I have always had a fascination with automobiles and the transport industry. Growing up, I had filled my room walls with posters of Formula 1 cars and drivers. I was a huge Michael Schumacher supporter. I think I always knew that I wanted to work with and near cars. I feel very fortunate to be living my dream!
Q: What did you study at University?
A: I got my Master's Degree in Economics from Maastricht University, where I had a particular interest in the relationship between societal demand and industry shifts. During my studies I realised that true societal change might not always come through demand alone, and that there may need to be an element of societal engagement involved to create an environment which encourages companies to progress. All sides need to be engaged in discussions to spur progress. Law makers, businesses, the public, they are all integral parts of making mobility safer.
Q: After University, where did you begin your career?
A: My first position in Brussels was an internship with the European Commission in the ICT for Transport Unit of DG INFSO. I then stayed on as an interim, soon after that I was offered a position at eSafetyAware. It was a public-private partnership created to raise awareness and campaigned for advanced vehicle safety technologies. Through the work that we did, we were able to contribute to the mandatory introduction of Electronic Stability Control (ESC) technologies in all new vehicles in Europe from 2014 onwards.
Then, I moved on to work for FIA Region I as Operations Director. At Region I, I used the profile of the FIA and the access to Formula 1 drivers to create powerful campaigns to inform the public and continue to fight for safer roads in Europe and the world.
Q: Did you ever get the chance to meet Schumacher?
A: Yes! It was a truly surreal moment. My meeting with Schumacher was also in the context of auto safety which was a very satisfying convergence of interests for me.
In addition to the development of these campaigns, much of my work involved leading the communication work of FIA Region I and focusing on member Club development activities, helping to extend their reach and their ability to interact with the public. There was also an international aspect to Region I that I enjoyed. Besides Europe, we regularly worked with the Middle East and Africa on safety and Club development campaigns. One achievement that I am especially proud of is the introduction of annual road safety campaigns that are made available to all member Clubs to adopt nationally to increase the reach.
Q: After many years at FIA, you decided to join ERTICO – ITS Europe as the Communications and Partnership Director. What was your experience with this transition?
A: I really learned a lot while at the FIA but I was ready for a new stage in my career and ERTICO was the next step. The fact that it is still in the realm of the transport sector is a big  advantage for me. The transition period especially was made easier thanks to the wonderful colleagues I found in ERTICO. They have put a lot of effort into making me feel welcomed from day one and I am particularly appreciative of the professionalism and expertise that the ERTICO team has in the field of intelligent transport.
Q: And now that you have spent six months at ERTICO, can you tell us a bit about the work you are doing?
A: When I moved to ERTICO, I quickly identified areas where there was room for improvement in the Communications and Partnership departments. At the beginning, I focused on strengthening the organisation's brand and online presence as well as engaging more with our Partners. Within the Communications team we manage a lot of activities; in addition to corporate communications, we are also responsible for the implementation of dissemination activities for the numerous projects we coordinate and support. In order to better focus and create valuable content for the projects ERTICO is involved in, the department was restructured to have team members working solely on deployment activities (projects and innovation platforms) and on corporate communications respectively.
We also decided early on, that our approach to social media should be improved, so we are currently revising our social media strategy.
Q: Besides content on intelligent transport, what are the other areas you will be focusing on for ERTICO communication strategy?
A: Right now our communication is structured around ERTICO's four focus areas: Connected &  Automated Driving, Urban Mobility, Clean Mobility and Transport & Logistics, without forgetting some more cross-border activities such as eCall and interoperability.
In terms of European co-funded projects, we are currently analysing the effectiveness of different communication tools. Besides social media, we want to identify more efficient ways to communicate with our target audience. What we have found so far is that making our communication content more visual has proven to be a more effective way of spreading information. So, in addition to describing our efforts in specific projects, we will now include visual highlights of our best events and workshops. We now want to both show and tell.
Q: Can you tell us a little more about the partnership aspect that ERTICO is aiming for?
A: Well, the two main focus points since I joined the team have been the 25th Anniversary Think Tank and the creation of the ERTICO – ITS Europe Partnership Vision 2030 for ITS.
The Think Tank event took place in Brussels on 20-21 September and brought together around 120 participants representing more than 60 partners, European Commission representatives and potential Partners. The goal of the event was to engage our stakeholders, exchange ideas about the future of ITS and to create an environment where they could network with each other. We are very happy with the outcomes and feedback we have received.
Q: That is great. Your partners get to see how things are progressing at ERTICO and learn from each other at the same time.
A: Exactly. We recognise that one of ERTICO's strengths is the broad range of its Partners representing different industries and we wanted to give them the opportunity to meet each other and discover for themselves the various ways that they can collaborate. It turns out that ERTICO's 25th Anniversary was a great opportunity to reignite the tradition of hosting the Think Tank for our members.
Q: And the Vision 2030 for ITS?
A: ERTICO's Vision 2030 for ITS is an ongoing exercise that we plan to complete by the end of the year. It is important to understand what our Partnerships' common vision of ITS is and how ERTICO can contribute towards achieving it. We have tried to get to a common understanding using several means such as involving our Partners in a one day workshop, engaging with ERTICO's Strategy Committee and focusing the Think Tank around this topic. After all, it is our common vision and we want to make sure that we do our best to express  the vision of our Partners.
Q: It sounds like you are setting very ambitious goals for the future. Can you tell us a little about how you plan on achieving these goals?
A: Improving our level of communications is key. Our overall goal is to improve the service level of the Communication and Partnership Development departments and to build ERTICO's brand.  In order for ERTICO to achieve these goals, various 'next steps' have been identified. A strong focus is being placed on strengthening both corporate and European project communication, as previously mentioned. We also intend to improve our online presence in various ways including restructuring our public website and creating a new and more functional Partners only section. We are going to put more effort into the creation of original content and we are going to start a blog in which we will cover intelligent transport topics and involve our Partners as contributors. We are also looking at increasing our cooperation with the media and are exploring new publications not necessarily related solely to ITS ranging from policy to technology.
We understand that in order to better serve our Partners we need to not only actively seek input and feedback, we must also communicate our activities more clearly. Our next step is to take advantage of the annual Partner survey to conduct a Partnership canvas, so that we can acquire a deeper understanding of our members' interests and where ERTICO can be most effective in supporting them. Based on this feedback, we will come up with further activities to involve our Partners in and respond to their needs.
It is an exciting road ahead and I am confident that with the contribution of our Partners and with the support of a dedicated and motivated team  in the Communications and Partnership Development departments, we will bring our work to the next level.