On 10 March, last week the ERTICO Academy headed East to Turkey to conduct its very first ITS training programme in the heart of Ankara. More than 30 participants from public institutions, the private sector and universities gathered together to learn more about intelligent mobility. The training was held alongside the second ITS Turkey Summit which brought together 1000 participants, including Mehmet Cahit Turhan, the Turkish Minister for Transport.
"The main aim of ITS Turkey is to strengthen human resource capacity in ITS. ERTICO's outstanding support to the sector encourages collaboration in particular in the field of training," said Erol Yanar, President of ITS Turkey. "Forty ITS professionals were first trained on ERTICO's e-learning platform and those successful were then trained face-to-face in the context of the Second International ITS summit with the support of ERTICO's expert trainers and ITS Turkey's training organization. Extremely satisfied with the training, ITS Turkey would like to express our enthusiasm for further collaboration."
"The training this year was built on the successful cooperation of one year ago when ERTICO supported ITS Turkey in organising its first ITS Summit. It further strengthens ERTICO's ties with countries in South East Europe," said Jacob Bangsgaard, ERTICO CEO. "ERTICO is firmly committed to supporting the region on its path to becoming a global leader in smart mobility, and we believe the ERTICO Academy confirms the importance of ERTICO as a thought leader in the sector."
To implement this training, the ERTICO Academy successfully established a model for cooperation with ITS Nationals, ERTICO's network of sister organisations as well as with national authorities, key players in the ITS ecosystem. During the training, ERTICO Academy trainers Jennie Martin (ITS UK), András Csepinszky (NNG) and Zeljko Jeftic (ERTICO) enlightened the audience about the latest trends in intelligent mobility: Cooperative ITS (C-ITS), impact assessment, standardisation and traffic management. Discussions also included Mobility as a Service (MaaS), Sustainable Urban Mobility Plans (SUMPs) and drones.
"I really enjoyed being part of the team of expert trainers who staffed the one-day ERTICO Academy training event in Ankara," said trainer Jennie Martin, Secretary General of ITS UK. "It was great to share knowledge especially with the younger trainees who are the future of our sector, and to find out more about ITS in Turkey. As the ITS sector moves so fast, continuous informal and short training services are very important and the ERTICO Academy is well placed to offer this service."
"In my opinion the support of the local partner is an important success factor. I see ERTICO as the European knowledge centre of ITS and we very much welcome ERTICO's approach in using experts from its vast network to provide best knowledge to the ERTICO Academy clients,' added trainer András Csepinszky, Director of Advanced Automotive Technology at NNG. "For me this initiative is the core of a new business at ERTICO which can add more value to the ITS community and can accelerate deployment thanks to its educational nature. I was very much happy with the event and I hope I can contribute to the initiative in the future."
ERTICO would also like to highlight the importance of the online training platform developed through the CAPITAL project which provides online, free-of-charge courses on intelligent mobility. For more information, contact Iuliia Skorykova.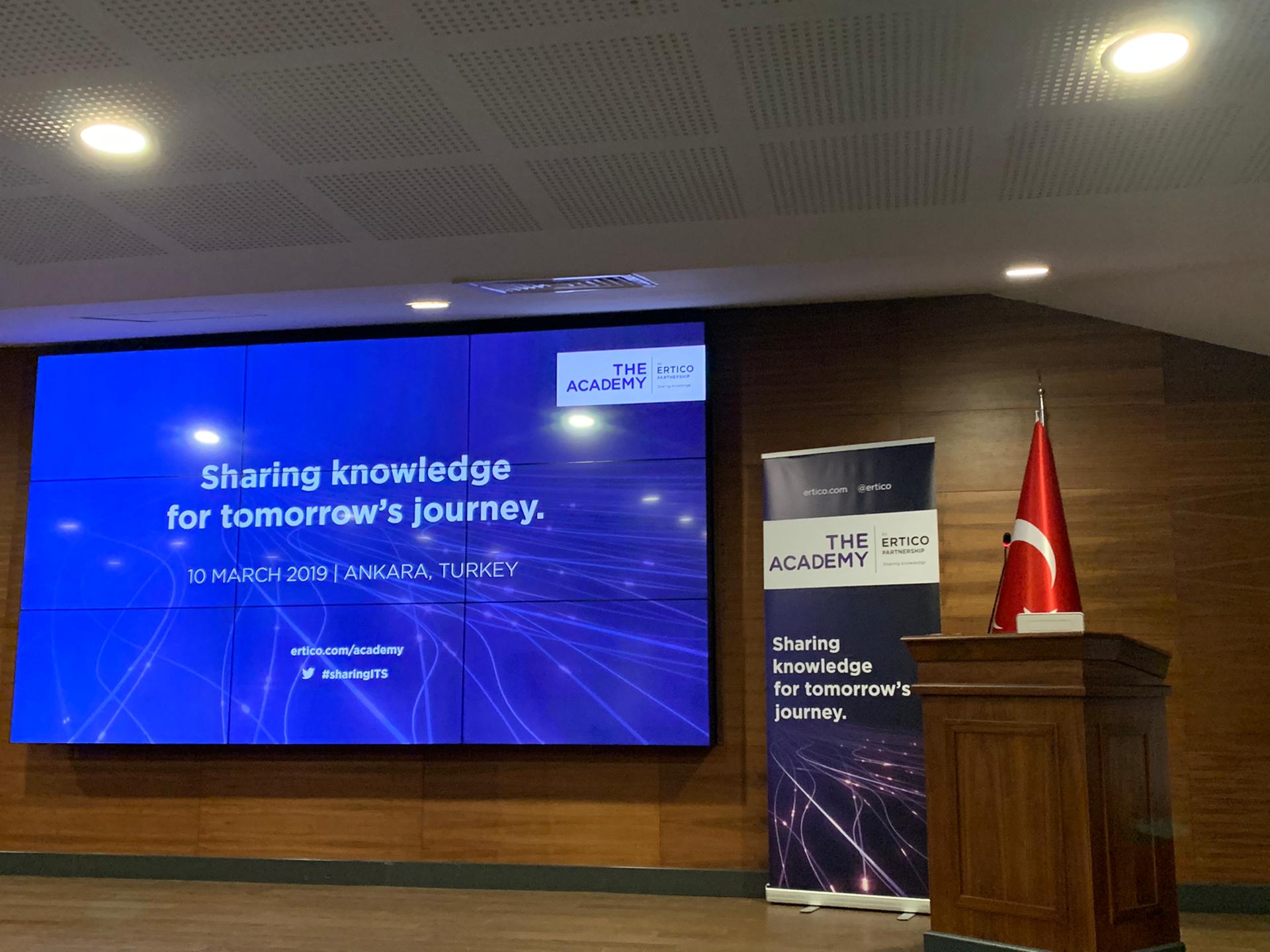 ---
Related content
The ERTICO Academy heads EAST: A unique learning experience in Ankara
ERTICO launches the new ERTICO Academy, for spreading knowledge and expertise on ITS and C-ITS